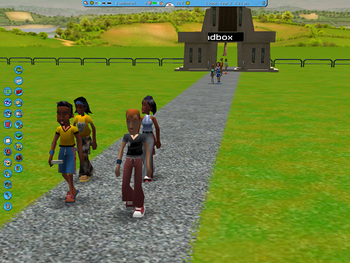 Guests, also known as Peeps, are the people that go into the park and utilize what the player builds and places for them, such as shops and rides.
Description
In RollerCoaster Tycoon 1, all of the guests in the park have the same width and height. Their hair color is also the same, always being brown. However, they do have different colors of shirts and pants. Guests in RollerCoaster Tycoon 2 look very similar to those in RCT1. In RollerCoaster Tycoon 3 and RollerCoaster Tycoon World, however, guests come in a variety in height, width, age, hair color, and more. The names of guests, in RCT1, are numbers that depend on when they came into the park. For example, the first guest who comes into a park would be called Guest 1, the thirtieth Guest 30, and the one-thousandth Guest 1000. In all of the other editions, any guests that come into the park are named a random "real" name, such as Mason B or Sally C.
Behavior
Needs
Guests will always have "needs" - that is, something with themselves that they want to satisfy. This applies for both rides and shops. For example, if a guest is hungry, they will go to the nearest food stall, which will satisfy their need. If there is not a food stall in the park yet, or it's very far away, the guest will not be as "happy." However, if the guest does eat, this will also make them thirsty, which will be satisfied when they go to the nearest drink stall. For rides, what exactly will satisfy them varies a little bit more. However, they are usually the most happy with a ride that has a higher excitement, medium intensity, and lower nausea. Both their "needs" for rides and their "needs" for food, drink, and toilets, is different between individual guests, which is why it's good to place a variety of different shops and rides in the park, to satisfy the most guests.
Vomiting
Guests will often vomit on paths, especially after they've gone on a ride with a high nausea rating. This is something that can't be avoided if the park has many high-nausea rides, but vomit can be cleaned up by janitors (or handymen in the first 3 RCT editions). The park rating will go down is there is a lot of vomit that stays for a long period of time.
Trash
Guests will have trash to throw away - mainly shortly after they've eaten or drank something from a shop. If there are trash cans nearby, the guests will throw it away in the trash cans. Otherwise, they will put it on the pathway. If this has happened, a janitor (handyman) will need to clean it up, or, like with vomit, the park rating will go down. Trash cans are most important to place near shops, although guests will sometimes wander far away from the shops before throwing their waste away.